HVAC systems typically consume the most energy in a commercial building, having regular maintenance on these systems can help prevent big issues, downtime, and greater operational expenses because of poor efficiency. Preventative maintenance of an HVAC system helps maintain its performance and reduces future costs of repairs and replacements.
Though it may seem like "just another expense," having regular HVAC maintenance will mitigate large costs especially if the small issues pile up and become a large immediate issue. Aside from cleaning coils and replacing filters, an overall assessment of your system should be completed with each maintenance inspection.
Now that we have discussed why maintenance is important for commercial HVAC systems, let's discuss the factors for maintenance frequency.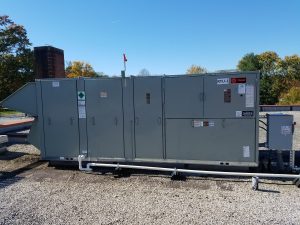 How Often Do You Need Commercial HVAC Maintenance? 
Maintenance check-ups for HVAC systems should be completed at least twice a year during spring and fall. This will help ensure that your HVAC system is functioning properly in the peak seasons of Summer and Winter so your building has heat and air conditioning.
More than twice a year maintenance?
If you own an older model HVAC system, it may require more frequent maintenance check-ups to keep it running.
For large commercial systems, more frequent maintenance may be necessary as well. Things like changing filters, inspecting equipment, and service checks can be completed by a mechanical contractor to support your building engineer.
When choosing a service contractor for your maintenance, the technician should do a thorough diagnosis of the condition of your system including inventorying parts and establishing a service game plan. They should ask you questions about the commercial HVAC system especially if they are a new mechanical contractor and did not complete the previous maintenance service.
What to Check During HVAC Maintenance Call
changing the air filters
inspecting and re-calibrating the system
checking and cleaning drainage lines and coils
During a maintenance call, the technician should look for damaged parts, components, or other factors that may affect the performance of your HVAC system. Recommendations for repairs and/or replacements should be provided are completed by the technician if needed.
Most mechanical contractors offer regularly scheduled maintenance once they install your new HVAC system, this helps ensure the same company and technicians work on your system from start to finish in its life cycle.
Benefit of Commercial HVAC Service
Regular maintenance of HVAC systems helps reduce the unexpected costs of unplanned repairs. The current condition of your system will be managed by the HVAC company which allows them to make recommendations and help plan for future repairs before they severely damage the system.
Maintenance also extends the lifespan of the system through regular inspection, cleaning, and belt replacements. Without these maintenance processes, the motor of the HVAC system may clog and fail.
A high-functioning HVAC system can also save more energy by at least 40%. Air quality will also improve with regular cleaning of the coils and blower parts to clean dust, pollens, and allergens build up. This will reduce the health-related concerns of the employees inside the commercial building.
What Should You Ask Your Contractors During Service Call

Before installation of your commercial HVAC unit, it's important to ask the contractor if they will be servicing the preventive maintenance of the system. If they do not provide the service, you may look for another contractor who will do both the installation and regular preventive maintenance.
You can also ask your contractor about the process, tools and equipment they will use, and parts that will replace. Some contractors also share some maintenance tips to further lengthen the life of your HVAC system.
Mechanical Contractor in Washington DC, Virginia, and Maryland
If you are looking for commercial HVAC maintenance and want a reliable company that focuses specifically on commercial systems, give us a call at 703-649-2977 or request service here.