Water Cooled VRV (RWEYQ)
Water Cooled VRV (RWEYQ) – For Geothermal or Boiler/Tower Applications
The VRV W Series offers an energy saving alternative to traditional centralized equipment. Its remarkable compact and light weight structure makes installation of VRV technology in large buildings possible. At only 330 lbs. and less than 40 high, the VRV W Series can take a ride up the elevator to be installed in a machine room. Offering state of the art comfort for hotels, offices and large commercial applications, the engineer solution tool box just got bigger. The VRV system keeps running costs at an absolute minimum by controlling each zone individually and being able to shut down completely in unoccupied areas.
VRV W Series Systems are equivalent to 4-Pipe Fan Coil systems, but also offer a viable alternative to WSHP Solutions. Each connected Indoor Unit can provide heating and cooling independently to suit zone requirements making these systems suitable for both open plan, or cellular applications with different operation requirements.
Two Stage Heat (Energy) Recovery is available between indoor units on the same VRV system and then across all the systems connected to a common water loop. This has a dramatic impact on Power Consumption and helps improves energy efficiency.
The VRV W Series allows for extensive refrigerant piping, enabling several spaces to be cooled by a single refrigerant circuit. The VRV W Series uses the same Daikin inverter technology that is used with air-cooled systems, but extends the application of VRV products by utilizing the same quality family of VRV indoor units and controls options.
Water-Side Infrastructure & Components
A water loop system is routed around the building, either vertically or horizontally. This can be either plastic or steel pipe work.
Heat Injection (Boilers) and Rejection (Cooling Tower or Dry Coolers) are required to ensure that the water loop stays between the required design conditions of 67 and 95F.
VRV-WIII condensers are connected to the water loop and the connecting refrigerant circuit serves indoor units the same as any Air cooled VRV system.
The following Water Side components are required:

Strainer (Mandatory Field Supplied)
Flow Switch or Differential Pressure Switch (Essential)
Thermostat (For Water Temperature)
Circulation Pumps
Adjustable Flange
Operation Range of Water Volume is 13.2-39.5 gpm. The optimum water volume is 16 gpm or more.
The Operation range for Inlet Water Temp is 50-113 F. The Optimum Water Temp Range is 67-95 F.
The Geothermal Operation range for Inlet Water Temp is 14-95 F during heating operation, and 27-113 F during cooling operation.
Standard VRV-WIII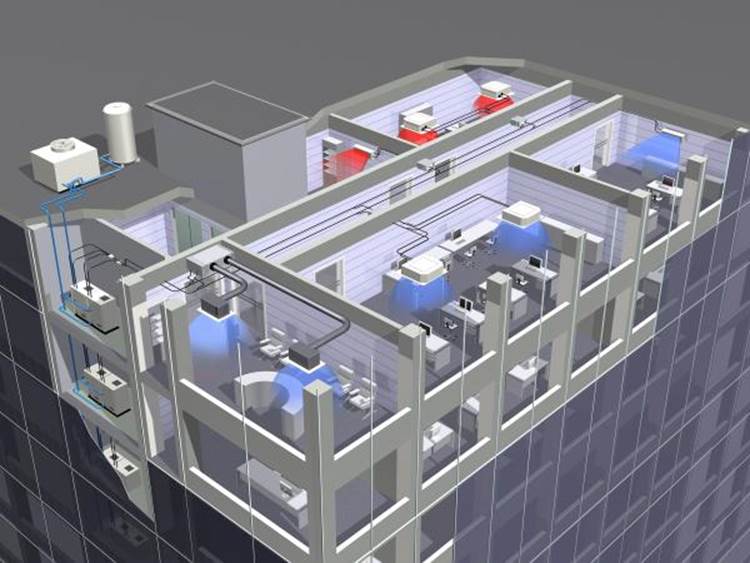 Standard VRV-WIII Specifications
Geothermal Enhanced VRV-WIII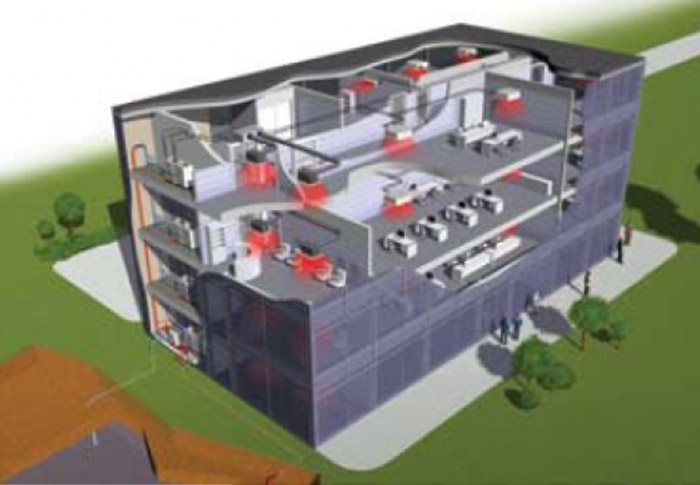 Geothermal Enhanced VRV-WIII Specifications
*Application rules apply below 48F. Please contact your local Daikin office for design assistance and approval.
Unified heat pump or heat recovery (simultaneous operation) condensing unit.
6, 7, 12, 14, 18 and 21 ton, 208 – 230V and 460V / 3-phase power for commercial applications.
7 combinations of condensing unit, up to 21-ton serving up to 32 indoor units.
Up to 1,024 indoor units can be operated on a single wiring system.
Continuous operation allows for cold climate capability delivering comfortable heating performance with no defrost.
Long refrigerant lines, up to 980 feet of pipe (390 feet max. linear liquid piping length), 164 feet height difference.
The System (Braze Plate Heat Exchanger) can tolerate water pressure up to285 psi (or 640 ft. of Head).
Optimum water flow rates per module of 16 gpm or greater (operable range13.2 ~ 39.5 gpm).
Modular units can be interconnected to make combinations of up to 21 tons systems.
Operates with closed loop cooling tower, dry cooler, boiler, and geothermal solutions.
System diversity up to 130% connectivity of nominal capacity.
Compact size, 39-3/8 in height, 30-3/4 wide and just 330lbs. Modular cabinet enables stacked multiple unit installations.
The advanced, self-diagnostic, auto-check function will detect a malfunction and immediately display the type and location so it can be resolved quickly and effectively.
RWEYQ condensing unit sound level as low as 50dB(A).
Zone LCD Remote Controller for up to 16 zones and provides a host of operational functions, including 7-Day Programmability.
Connects to the full suite of advanced Daikin Control Solutions including I-Touch Controller and I-Touch Manager.
Can be integrated to Open Protocol Building Management Systems via the Daikin BACnet and LonWorks interface
** EWT in simultaneous heating and cooling operation can be lower than 48F if the condenser is in heating dominant heat recovery operation. (contact your local Daikin office for further details)
*** EWT operation range is limited to 23F (-5C) with 30% glycol, 40-50% glycol must be used with water temperatures below 23F down to a limit of 14F.